Current:

ICT Experts to Gather in Morocco for IDC's Francophone Africa CIO Summit 2018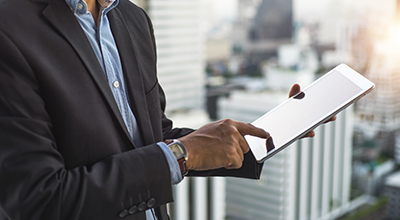 16 Apr 2018
ICT Experts to Gather in Morocco for IDC's Francophone Africa CIO Summit 2018
Casablanca – International Data Corporation (IDC) is pleased to announce the return of its annual Francophone Africa CIO Summit, with Morocco's Mazagan Beach Resort in El Jadida set to host the 2018 edition on May 3rd. Around 80 of the region's most influential information and communication technology (ICT) leaders will be in attendance as a roster of respected industry experts and visionaries share their unique insights and showcase innovative strategies for thriving in the digital economy.
"As the digital revolution continues to gather pace, traditional business models are undergoing unprecedented levels of disruption," says Jyoti Lalchandani, IDC's group vice president and regional managing director for the Middle East, Turkey, and Africa. "This has triggered a wave of digital transformation across the region, and expert guidance is now required to navigate the numerous challenges and roadblocks that lie in wait. For this reason, we are delighted to be returning to Francophone Africa to help the region's ICT leaders develop a comprehensive blueprint for succeeding in the digital era."
IDC's Francophone Africa CIO Summit has served as a pioneering platform for ICT thought leadership in the region since the first edition was held in 2013, and this year's installment will see a lineup of globally respected industry experts such as Serge Findling, IDC's vice president of research and digital transformation enablement, address the major challenges, opportunities, and priorities that are set to dictate the North Africa ICT investment landscape over the coming year.
The Summit's agenda has been designed to help CIOs rethink the way they leverage information, implement emerging ICT solutions, and facilitate organization-wide innovation, with the ultimate aim of making their enterprises more agile, efficient, and productive than ever before. The rise of disruptive automation will feature prominently, while expert guidance will also be provided on issues such as driving digital business at scale, harnessing the power of enterprise mobility, building a resilient cybersecurity strategy, and empowering innovation with cloud.
Targeted exclusively at C-level executives and above, the event will combine thought-provoking presentations with interactive workshops, panel discussions, and case studies, all while facilitating one-to-one meetings between the providers of cutting-edge technology solutions and the influential decision makers responsible for driving their implementation.
IDC's partners for the Francophone Africa CIO Summit 2018 include HP Enterprise, VMware, Honeywell, Visiativ, Arkeos, Accent, and SOTI (in association with Teledyne). A number of other partnership opportunities are available for the event. To learn more, please visit www.idcfrancociosummit2018.com. You can also follow all the latest updates about the Summit using the hashtag #IDCFRANCOCIO.
About IDC
International Data Corporation (IDC) is the premier global provider of market intelligence, advisory services, and events for the information technology, telecommunications, and consumer technology markets. With more than 1,100 analysts worldwide, IDC offers global, regional, and local expertise on technology and industry opportunities and trends in over 110 countries. IDC's analysis and insight helps IT professionals, business executives, and the investment community to make fact-based technology decisions and to achieve their key business objectives. Founded in 1964, IDC is a subsidiary of IDG, the world's leading technology media, research, and events company. To learn more about IDC, please visit www.idc.com. Follow IDC on Twitter at @IDC. 
IDC in the Middle East, Africa, and Turkey
For the Middle East, Africa, and Turkey region, IDC retains a coordinated network of offices in Riyadh, Nairobi, Lagos, Johannesburg, Cairo, and Istanbul, with a regional center in Dubai. Our coverage couples local insight with an international perspective to provide a comprehensive understanding of markets in these dynamic regions. Our market intelligence services are unparalleled in depth, consistency, scope, and accuracy. IDC Middle East, Africa, and Turkey currently fields over 130 analysts, consultants, and conference associates across the region. To learn more about IDC MEA, please visit www.idc-cema.com. You can follow IDC MEA on Twitter at @IDCMEA.
Coverage
Regions Covered
Topics Covered